I love old Porsches. I'm partial to air-cooled 911s but I find vintage 356s fascinating too. There are plenty of other cool old cars that always make me look twice, but nothing says "damn" better than a classic Porsche.
I love music. Blues, rock, salsa, and classical are my favorite genres. But as long as there's a beat, a melody, and maybe a little harmony, I'm in.
I love to read. Historical fiction, how-to business books, biographies, even magazines and newspapers. If it's well-written, entertaining, informative, and engrossing, I'm ecstatic.
I love mid-century and modern architecture. I'm a sucker for Richard Neutra, Mies Van de Rohe, Le Corbusier, Joe Colombo, Achilles Castiglioni, and so many more. Give me clean lines, balanced proportions, and edited simplicity, and I can stare for hours.
I love graphic design. Saul Steinberg, Albrecht Durer, and Miro are my old-school faves. These days I'm looking at works by Michael Bierut, Carlos Segura, and Jony Ive and the whole Apple team.
I love Asian food. Vietnamese is my favorite but I also love Thai, Korean, Japanese, and Indian. Of course, I also love Italian, Cuban, Mexican, and Argentine food.

Burgers, raw oysters, and BBQ make me happy too.
Why am I telling you all this?
Do I have a birthday coming up and want you to know what to buy for me? Nope, I'm a December baby… we've still got months to go before I start hinting about presents.
Am I so egotistical and self-centered that I think you care about the things I love? While some of the less generous readers of this blog may not agree, my answer is no again.
Instead, I want you to think about your marketing.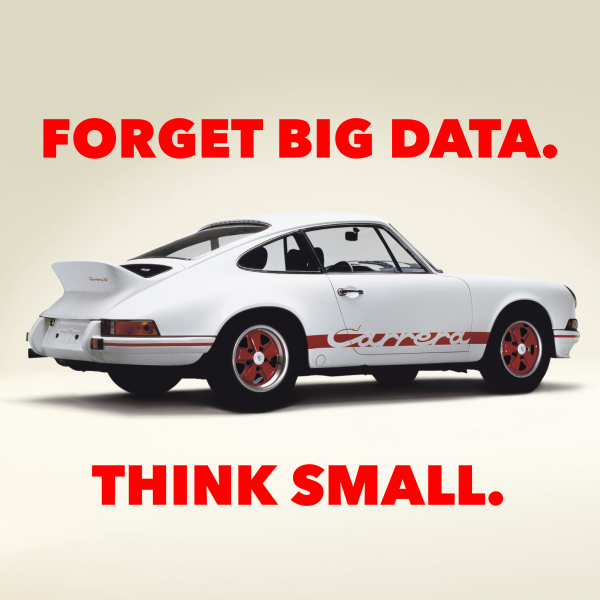 Imagine how much easier it would be to build a powerful brand if you knew as much about your customers as you now know about me. Imagine how well you could reach out to them with a compelling, customer-focused message if you knew who they were and what they liked. Imagine how easy it would be to pick social media sites, type styles, headline copy, and app features if you actually knew which ones your customers would find most attractive.
For years now we've been hearing about how big data can tell marketers everything they want to know about their customers. And for those same many years, most of us have been complaining that because we're not Amazon, The Home Depot, or Marriott Hotels, and we don't have access to big data.
But if big companies have access to big data, doesn't it make logical sense that small companies have access to small data?
Think about what you can learn about your customers by just asking them.
To get the kind of up-to-date, accurate, emotional, customer preference information you need to build your brand and your business, just lean across the counter talk to them. Actually ask your customers, clients or patients about what they like, what they care about, what they want.
Not only will they tell you everything you need to know about how to attract their business, they'll actually feel good about the interaction because they'll know you care about them. And when that happens, it's no longer just about selling them suits, or sundaes, or summary judgments. Instead, you'll be building the kinds of relationships with your customers that those big companies can only dream about.
Just like I dream about a white and orange 1972 Porsche 911 2.7 RS.