Willy Walker walked purposefully to the center of the stage and addressed the 400 people in the audience.
"Late last night I wandered through the hotel lobby. A maintenance engineer asked me if I needed help and I told him I was looking for the gym. Instead of just pointing me in the right direction, the engineer rolled his utility cart out of the way and escorted me to the gym… even though I told him I could find it myself."
The audience was made up of Willy's partners, associates, and top performers so they all paid rapt attention when he continued.
"Of course, we all expect great service when we're at a Ritz-Carlton. But I was still impressed that this gentleman took it upon himself to make sure I had a great experience."
With that, Willy went on to talk to his folks about what they had all accomplished over the last year and where they were going in the future. He used the Ritz-Carlton story as just one interesting illustration of how an All About Them culture was an important part of Walker & Dunlop's client service and its business.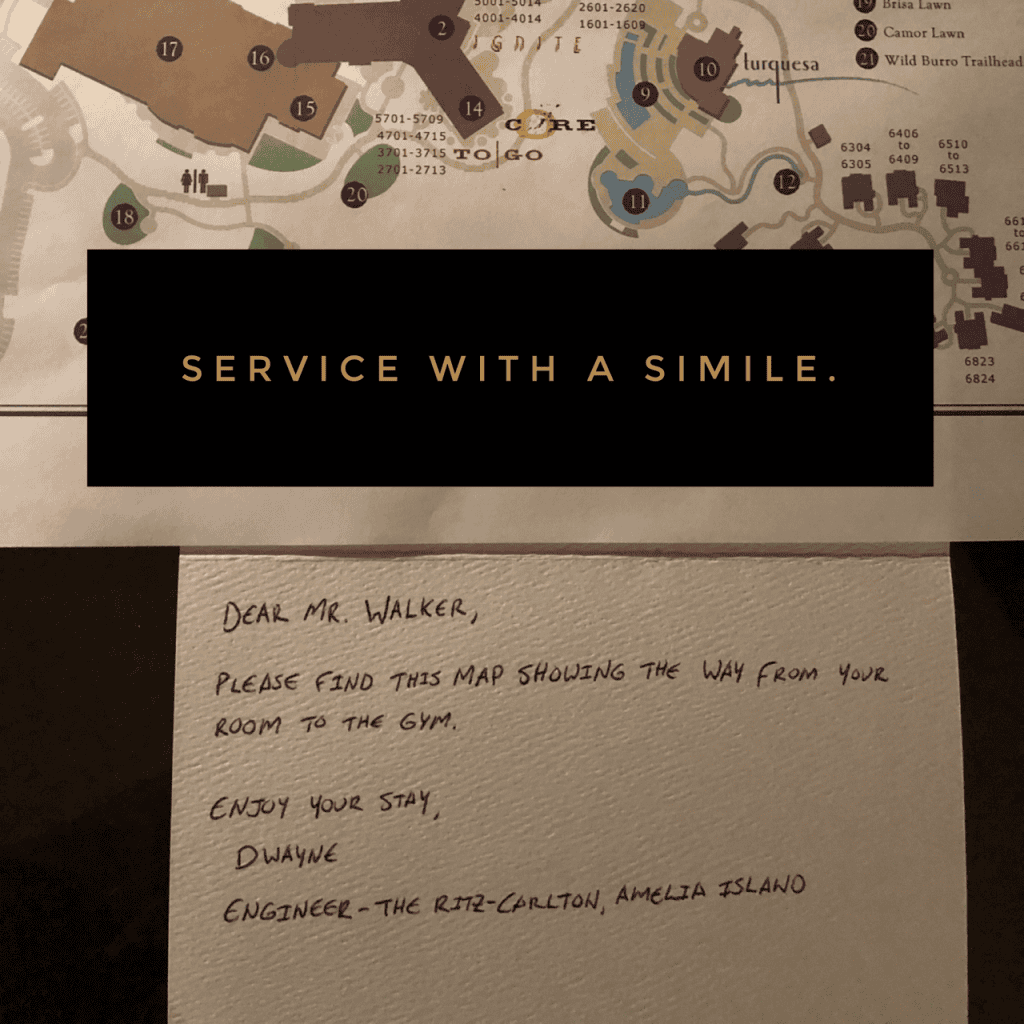 A little more than a week after the event we received this email from Willy:
"Dear W&Ders:

As everyone who attended our training session in Amelia Island knows, I mentioned the exceptional customer service of one of the engineers at the Ritz Carlton, who rather than simply point me in the direction of the gym late at night, stopped what he was doing and walked me across the resort to show me where the gym was. I asked everyone in our training session, metaphorically, "When was the last time you walked a W&D client to the gym?" 

Well I just arrived at the Ritz Carlton in Tucson, Arizona and walked into my room to find a handwritten note with the following message:

Dear Mr. Walker,

Please find this map showing the way from your room to the gym.

Enjoy your stay,

Dwayne

Engineer, Ritz Carlton, Amelia Island

Big company capabilities, small company touch and feel. 

Ritz Carlton gets it!"
That the Amelia Island Ritz-Carlton management took the time and initiative to check Willy's travel schedule and let him know they were thinking of him is remarkable enough. But maybe that's a good business practice that's not immediately usable in your own life. What is replicable is how Willy both used the story and its follow up to make an ongoing point. Even more usable is Willy's metaphorical question, "When was the last time you walked a W&D client to the gym?" because it took an enlightening and amusing story and moved it from being company- centric to consumer-centric (one of the key tenants of All About Them).
By summing up the story that way, Willy not only entertained his audience but gave them an actionable idea that they can use to improve their own business right away. And when he did that, Willy created a spirit of customer service that will serve his business, his employees, and his customers.
Win. Win. Win.