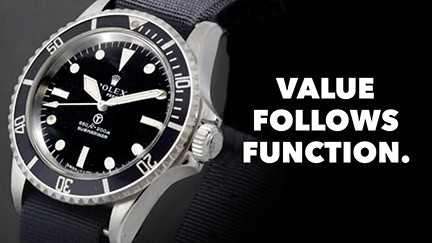 Click HERE if you'd rather watch the video.
It's an interesting modern phenomenon – customers and collectors attach significant value to products and places that excelled in specific functions even though those same people place little value on those specific functions anymore.
What do Key West, Nantucket, South Street Seaport in NY, and Valparaiso have in common?
They all were once bustling shipping ports that have become tourist destinations. Today's visitors are attracted to those places' former status even though they have no need (or interest) in their functions.
What attributes do the beaches of Normandy, The Alamo, Gettysburg, and Gallipoli share? Tourists flock to them for their significance as important battlefields even though none of those areas have seen bloodshed in generations.
What do Angor Wat, Macha Pichu, Chichicastenango, Cheops, and Easter Island have in common? Travelers trek to them for their significance as great seats of cultural and religious dominance even though none of those activities still occur in any of those places.
It's the same with products.
If you collect timepieces, you know that "tool watches" have seen a significant rise in value over the last few years. This category includes watches made specifically for SCUBA divers, pilots, race car drivers, sailors, and anything with military significance. Tool watches are so important to modern collectors that stainless steel Rolex "MilSubs" (a portmanteau created from "Military" and "Submariner") have become some of the most desired watches in existence. A Rolex Milsub I saw just yesterday is probably worth $250,000 even though they were originally sold in Navy PXs for $54 only 50 years ago.
Based on the ages of most collectors, it's no wonder.
When I was a teenager growing up on Miami Beach I had an after-school job at Junior's Tackle Shop. The concrete block shop was perched on a rickety old dock on the water right across from the Coast Guard base. In the afternoon the returning patrol boats would tie up to our dock and send me to fetch frosty six packs of Budweiser and PBR from the bait cooler inside the shop.
The Coast Guard divers all wore the same uniform: black wetsuits unzipped to their waists with the sleeves hanging over their weight belts, dog tags dangling on silver chains around their necks, blistering sunburns flaking off their shoulders, and chunky stainless steel Rolex GMT watches strapped to their wrists.
Is it any surprise then that even all these years later I still think the GMT MilSub is the coolest watch ever made? (I don't have one in my little collection, by the way. Not hinting mind you… just sayin'…).
Collector cars are also part of this same phenomenon.
We all expect that Ferraris, Lamborghinis, and classic Porsches would be auctioned off at stratospheric prices, but who would ever expect that Ford Broncos, Land Rover Defenders, as well as Toyota Land Cruisers and FJs would also be so collectible? Especially when you consider that the earliest versions of these 4x4s were not much more sophisticated or better made than most farm implements. Interestingly enough, both Ferdinand Porsche and Ferruccio Lamborghini had successful businesses designing and building farm tractors alongside their sports cars, too.
But just like the tourist destinations that no longer serve their original functions or the tool watches that are no longer used to time anything more demanding than a Zoom call, today these four-wheel drive trucks are seldom used for anything more taxing than ferrying kids to private schools or idling in the Starbucks' takeout line.
Today, function has become cost of entry.
Technological advancements and computerized perfection have seen to that. After all, today's $300 Apple Watch performs more and better functions than any of those watches we discussed, regardless of their astronomical collector value.
Today's $20,000 Kia or Hyundai get their drivers from point A to point B faster, quicker, safer, and more efficiently than any of those collector trucks, regardless of the terrain.
And the most arduous thing you can expect to do at the first class resorts located at those historically significant locales is to drag your rolling suitcase up to your room or hoist another Malbec up to your lips.
As I said, function has become cost of entry.
But the concept of function has become very valuable indeed. And it's the same for you and your business.