In 1984 IBM's share price skyrocketed and they were the darling of Wall Street. But ten short years later, IBM lost over $8 billion, the biggest loss in corporate history at the time. In response, the company completely revamped its strategy, moving from a product-based business to a service business. IBM spent over billion to acquire more than 200 companies and build out their service portfolio, including consulting, data analytics, and other high-value service offerings.


Bridget van Kralingen, IBM's general manager for North America said, "our path to business success lies in understanding the relevant trends, figuring out how our strengths and resources can capitalize on them and staking out a leadership position."
IBM Changed Their Brand Strategy
Following IBM's strategy of changing their business offerings from products to services, Office Depot is doing the same thing. Simply put, they are evolving their brand from a "big box" to a "BizBox.

" CEO Gerry Smith points to a future more focused on its main source of revenue – business products and services.
Office Depot is Changing Their Brand Strategy too.
Smith explained that Office Depot is transitioning its brand building into a more focused provider of business services. "We will continue to shift from primarily products to a services-led business platform." 
According to an article on the website DigitalCommerce360, "The office supply company, which finished a down year in 2017 as sales fell 7.1%, is known as an operator of 'big box' category-killer retail stores." But we know the reason why Office Depot needs to change.
The big box category killer is being eaten by an even bigger category killer:
Amazon.
The online sales giant disrupted retail sales of office supplies to such a devastating effect that Office Depot had to figure out another way to use its name and knowledge to generate revenue and profits. In the new business reality they found themselves in, selling scissors just wasn't going to cut it anymore.
Recently, a friend of mine spoke at an event sponsored by Office Depot. As a thank you the company gave my friend an Amazon gift card. Considering that it was Amazon that siphoned away Office Depot's sales in the first place, I call this feeding the hand that bites you.
Are You Feeding The Hand That Bites You?
In the case of Office Depot, feeding the hand that bites you is probably only amusing. But considering the revolutionary things that are happening with big data and privacy, it could become more and more dangerous to all of our businesses.
We all know that the classified ad business was replaced by craigslist just like TV Guide was replaced by online compendia. The real estate industry is learning they've been disintermediated because the Internet has put their exclusive information in the public domain.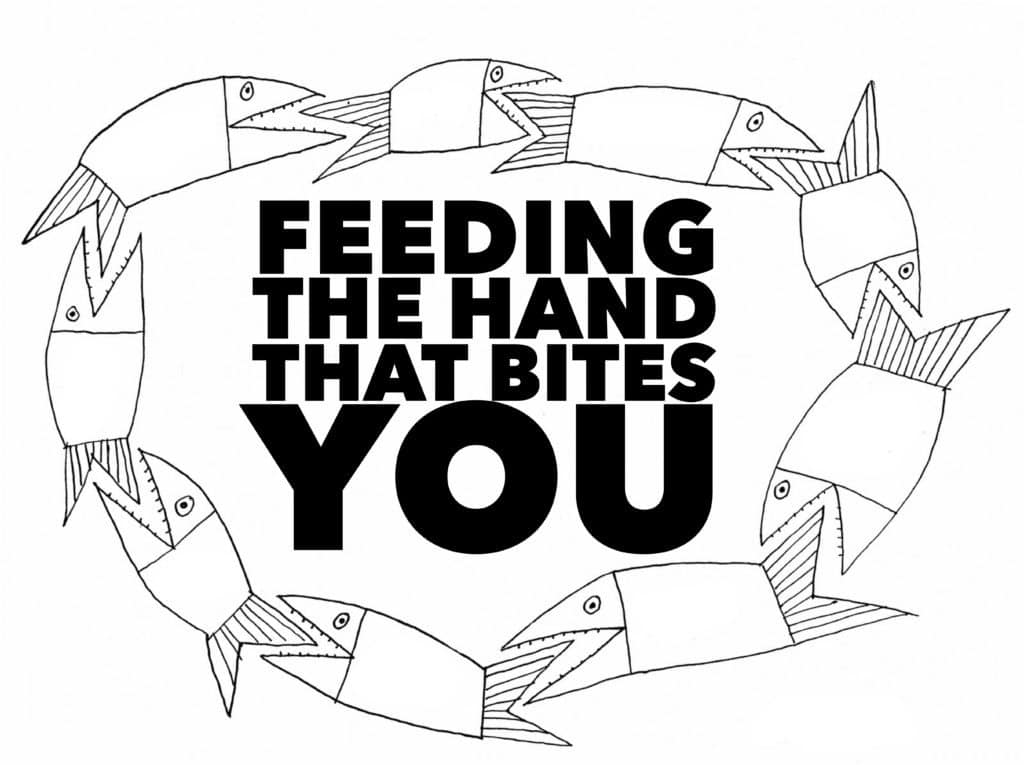 If you're a writer or a speaker, a musician or a filmmaker and you're sharing your artistic output on social media to attract audiences, how much IP do you have to give away before your content is so ubiquitous that no one needs to buy it from you or hire you to perform it any longer?
Perhaps you're a service provider and you're posting How-To videos on YouTube or Vimeo in order to demonstrate your own skills. How much proprietary information do you have to give away before your potential customers realize they can watch what you do and follow along online rather than hiring you to do the work?
Exposure is an important part of marketing, but as I wrote a few weeks ago, you have to decide if you want to be famous or if you want to be rich. And if you choose the latter, you need to stop feeding the hand that bites you.